Zimmer Cryo 6 Chiller
The Zimmer Cryo 6 Chiller offers clear and easy operation via a sensor touch glass keyboard. The Zimmer Cryo 6 Chiller is intended to minimize a patient's pain and injury during laser and dermatological treatments and for temporary topical anesthetic relief from injections. An integrated flat glass platform provides a large usable area for a laser, IPL, or accessories. An optional articulating arm facilitates hands-free operation.
The Cold Air Device From the World Leader
The Zimmer Cryo 6 Chiller is intended to minimize pain and thermal injury during laser and dermatological treatments. It also provides temporary topical anesthetic relief during injections, tattoo application, tattoo removal, RF, laser hair removal and much more.  The device can assist in a variety of applications and is particularly useful with cosmetic procedures. Unlike other cooling methods, such as contact cooling, cryogen spray or ice packs, the Cryo 6 can cool the epidermis before, during and after the laser energy has been applied, without interfering with the laser beam.
The Perfect System for Skin Cooling – Especially for Laser Treatments and Injections
The Zimmer Cryo 6 Chiller is the perfect chiller system for cooling the skin in laser applications and injections of any kind. The cold air device reduces the pain sustainably and minimizes thermal damage to the skin in laser and IPL applications. Studies have shown that skin cooling with the Cryo 6 cold air device reduces patients' pain and sensitivity. As a result, treatments can be tolerated significantly better.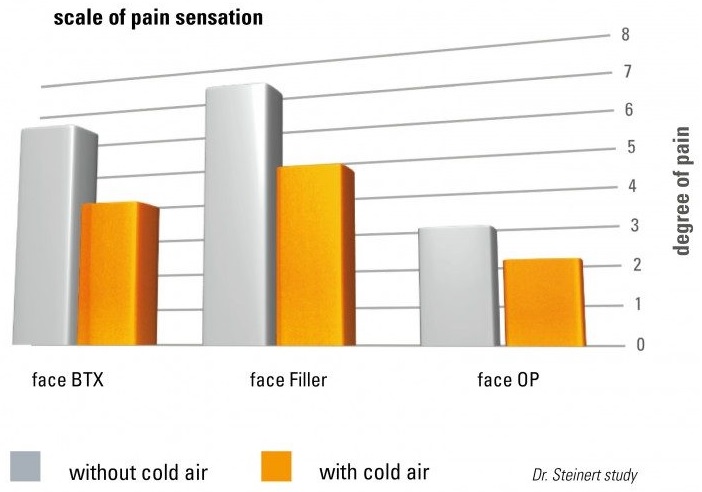 Zimmer Cryo 6 – the Best Choice
Professionals throughout the aesthetic industry use the Cryo 6 extensively for varying cosmetic and dermatological laser treatments. The system streamlines the process, while ensuring optimum patient comfort and minimizing the risk of thermal injury. The cold air device facilitates aesthetic procedures with rapid and effective numbing for patients.  For aesthetic laser practitioners, the Cryo 6 is a fantastic addition to the operation theater, offering the best technology and the best choice for all sorts of aesthetic treatments.
Zimmer Cryo 6: Award Winning Technology
The Zimmer MedizinSystems Cryo was awarded the Editor's Choice "Best Stand Alone Epidermal Cooling Device" for Aesthetic Trends and Technologies. This is just one of many award acclaims that Zimmer manufactured products can boast. The Cryo 6 maximizes comfort and minimizes side effects for patients, due to its unmatched cooling methods. Further characteristics acknowledged by the aesthetic industry are easy maintenance and service, convenient filter cleaning, defrost-cycle indicator and unique container for condensed water. The fact that Cryo 6 has no consumables is well worth the highlight on its own.
Zimmer Cryo 6 Chiller Specifications
Delivers Cold Air Down To -30°C
Power Supply 115 V / 60 Hz
Max. Power Consumption During Therapy 1 KW
Standby-Mode 260 W / h
Cooling Duration Long Term
Treatment Hose Length 6 ft.
Housing Dimensions H 25″ / W 15″ / L 27″
Weight 132 lbs. (including glass plate)
Cooling Fans 9 levels, max. 1000 l / min
Device Class EN 60601-1 I, Type B MDD / MPG Class IIa