Bovie DERM 102 High-Frequency Desiccator with Stand and Tray
The Bovie Derm 102 Desiccator is an economical, 10 watt high frequency desiccator, thoughtfully designed to give practitioners the ability to perform in-office, minor skin procedures such as the removal of skin tags, benign lesions and premalignant lesions. These Bovie units allow practitioners to provide better patient care in the office, at a sensible price, saving the patient time and money, while increasing their practice revenue.
Bovie DERM 102 Desiccator with Stand Package
Standing Mount
Attached Trays

Upper Stainless Steel Tray: 9.5″ x 13.25″
Lower Metal Tray: 11.5″ x 12.5″
Bovie DERM 102 High Frequency Desiccator Specifications
DIMENSIONS: 7.2″ W x 2.7″ D x 8.2″ H
WEIGHT: 3 lbs.
OUTPUT POWER: To 10 watts (0-10 watts in 1/10th watt increments on both monopolar and bipolar)
OUTPUT FREQUENCY: 550 kHz
LINE VOLTAGE: 100-240 VAC
LINE FREQUENCY: 50 – 60 Hz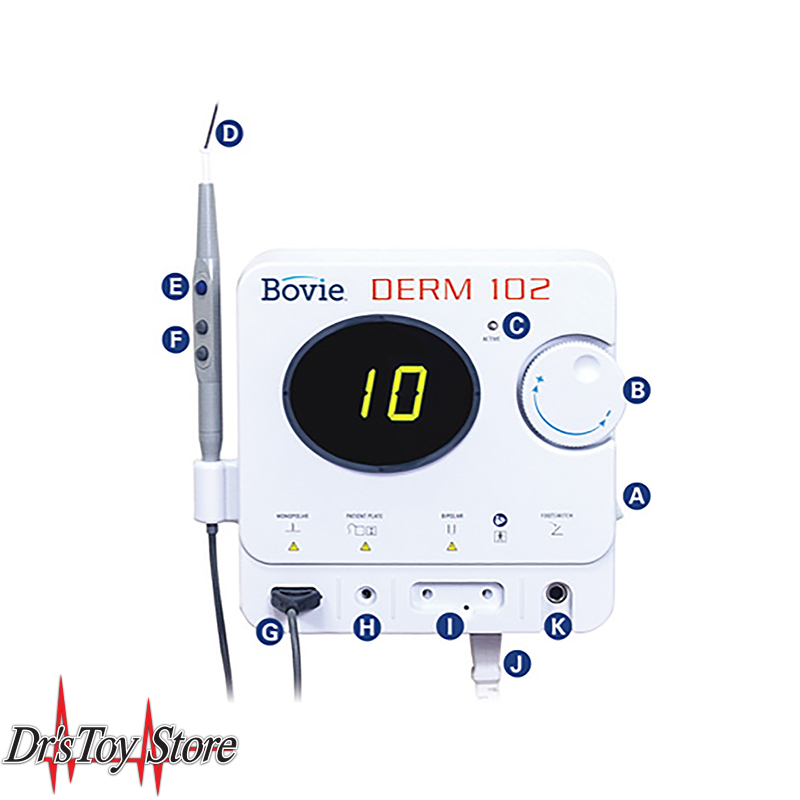 A) POWER SWITCH
Turn the unit power on utilizing the switch on the right side panel of the unit.
B) POWER OUTPUT DIAL
Set the power output either by using the dial on the front of the unit (B) or on Bovie DERM 102 unit only by the up and down buttons on the handpiece (F). When power level adjustment is being made by the handpiece an audible tone will sound to indicate that the power level has been changed. Depressing and holding the up or down buttons will cause the power settings to change more rapidly for quick adjustment of the output settings. Power output is displayed in ".1" watt increments from 0.1 to 10 watts.
NOTE: The output settings cannot be adjusted when the unit is being activated.
C) ACTIVE LIGHT
When the unit is activated, an audible tone is sounded and the blue active light will illuminate.
D) STANDARD ELECTRODE
Slide the standard electrode into the handpiece until it is firmly seated. The handpiece will accept most standard 3/32″ electrodes.
E) ACTIVATION BUTTON
To activate the unit, remove the handpiece from the holder. Place the handpiece in the desired position and depress the activation button.
F) POWER OUTPUT BUTTONS
Set the power output by pressing the up and down buttons on the handpiece.
G) MONOPOLAR OUTPUT RECEPTACLE
The monopolar output for the handpiece is on the lower left front of the unit. The handpiece plug is designed to fit in only one direction. Plug the connector from the handpiece into the receptacle on the bottom of the unit. The three-button handpiece is designed to give the doctor complete fingertip control of the power output settings.
H) GROUNDING PLATE OUTPUT RECEPTACLE
To use the optional grounding plate with cord (A802EU), insert the plug of the cord into the grounding plate output and connect the other end to the grounding plate. The plate should be placed underneath the patient at a point where the entire plate is covered by bare skin. The use of conductive gel is recommended.
I) BIPOLAR OUTPUT RECEPTACLE 
To use the optional bipolar cord (A827V), insert the pins into the bipolar outputs. The cord is then plugged into the forceps. A sliding gate behind the monopolar and bipolar outputs prevents the user from using both simultaneously.
J) POWER CORD
Plug the female end of the power cord into the base of the unit.
K) FOOT-SWITCH OUTPUT RECEPTACLE
The optional footswitch (A803) is plugged into the footswitch output and placed on the floor. The footswitch can be used with monopolar procedures and must be used with bipolar procedures.