BioMedix PADnet Testing Device
Introducing the BioMedix PADnet Testing Device.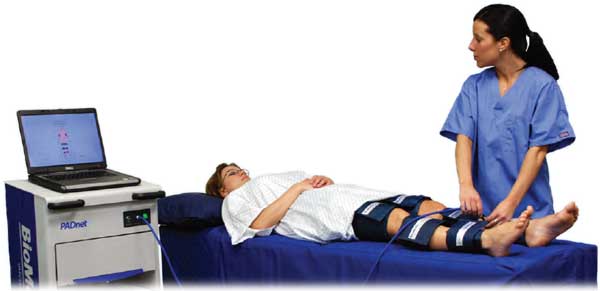 Non-invasive system for collaborative arterial and venous testing
PADnet® is an easy to use in-office vascular testing device for the early detection of Peripheral Artery Disease (PAD) and venous disease, providing a platform that supports a collaborative care model to optimize patient outcomes. PADnet is clinically valuable, provides fair financial return with medically appropriate testing and seamlessly integrates with the complete suite of Biomedix® products and services for a comprehensive solution for your center of excellence.
Collaborative System that Connects Care Providers
PADnet saves time and travel to a hospital or specialty lab by sending test results instantly via the web for interpretation by a collaborating vascular specialist. Complete patient demographics, history, risk factor and test data is sent quickly and securely, ensuring error-free transmission while supporting HIPAA compliance. Specialists can review test results at their convenience, from any secure internet connection. Vascular disease can be detected earlier at front-line locations, limiting costly disease progression.
Peripheral Artery Disease
Eight to twelve million Americans have PAD. Without proper treatment, 30% are likely to suffer PAD-related stroke, heart attack, amputation or death.2 Detection and care for PAD can be dramatically improved by connecting physicians and vascular specialists to optimize collaborative patient care with the use of PADnet.
Comprehensive Vascular Testing Features
PADnet is more comprehensive, expandable and clinically valuable than ever before. PADnet is an all-in-one solution for your center of excellence.
Ankle-Brachial Index (ABI)/Toe-Brachial Index (TBI) and Pulse Volume Recording (PVR)
Also available:
Post-Exercise ABI and PVR testing help reveal masked disease
Segmental Pressures (pressures taken at thigh and calf levels) help localize disease
Venous refill testing via cuff or probe to help identify problems affecting venous circulation and Chronic Venous Insufficiency (CVI)
Doppler-enabled module conveniently integrates external vascular Doppler functionality
Remote View allows physicians to review tests online 24/7